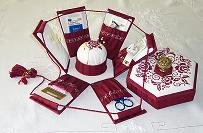 $18.95
A six-sided French Sewing box kit, opens like a flower to reveal multiple pockets and an optional pin-cushion. The sides pull closed with a drawstring and are secured by the lid.
The cross-stitch pattern is included with each kit. You will use your own fabric to create this original Etui. Just think of the possibilities! BESIDES HAVING ALL THE CHIPBOARD CUT FOR YOU, EACH PIECE IS EMBOSSED WITH A NUMBER FOR EASY CONSTRUCTION.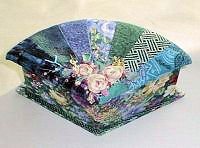 $6.50
This lovely kit creates a box that will inspire peace and serenity. It's 6 1/2 inches across, with an optional divided interior.
The chip-board pieces are all precut for you. All you have to do is cover them with your own fabric and assemble.

This is a favorite of ours! Easy, simple and colorful! Enjoy! Silk Ribbon and fabric not included.